on
July 9, 2010
at
12:00 am
Hello, I'm a Goblin Engineer…
Well, I do both really, but I find Goblin engineering so much more useful.  I love the bombs (more so before their siege dmg was nerfed) and definitely love the ammo (made tons of gold selling that stuff!).  Gnomish, it's alright.  I mean it's fun but when you're in a pinch, it's better having the nice arsenal of explosives at your disposal.  Yeah, and I really like the warp spots for goblin.  I mean, as a Horde, it's just north of Org, so it makes everything nice and easy.
I can only imagine what evil creations are in-store for us come Cata.  With the Gnomes on their way to reclaiming their city and the Goblins in the mix, there's no telling what insanity awaits!  I kinda hope there will be an engineering dune buggy at some point (yeah, I know it's a horde mount, but it'd be nice for the Ally goblin engineers as well.  sure, we're supposed to hate each other faction-wise, but we goblin engineers are all kin to me!)
PS… Just realized that this is my 25th full comic!  (not including the minis)  Woot!
---
In other news…  New item in the shop!!!  Shakershirts for boys and girls!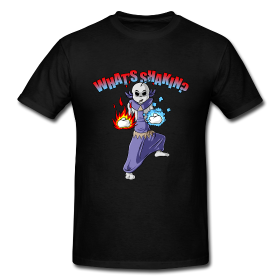 Transcript: English
Gnome
:
Hello, I'm a Gnomish Engineer.
Goblin
:
And I'm a Goblin Engineer.
Goblin
:
Say Gnome, what do you have there?
Gnome
:
Oh, just the latest in Gnomich Technology... Let me show you how it works!
Goblin
:
Well... That's not very practical.
Goblin
:
And what? That little firecracker is? I bet it doesn't even have a failure proc. Where's the fun in that?
Goblin
:
Heh, actually... It's a lot of fun!
Gnome
:
Yeah, good luck changing back now!
Goblin
:
Good luck with this breeze...
Gnome
Yells
:
ACK! STOP FLAPPING YOUR WINGS!